May is Mental Health Awareness month, and there is no better time to implement wellbeing practices into your workplaces. 
In 2023, 26% of US employees reported that they are very often or always burned out.

 

48% of people say stress has a negative impact on their personal and professional life.

 

Employers lose $300 billion annually in stress-related healthcare and missed work.

 
An individual's self-care is an important aspect of mental health, but this is a "we" problem that spills over into the workplace. Leadership training doesn't generally cover mental health, but it is the leadership of the organization that sets the tone. Leaders should be empowered and knowledgeable in building a culture that promotes wellbeing. 
Here are 10 ways to support wellbeing at work: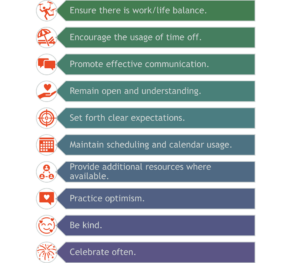 Implementing all 10 of these may seem like a daunting task, but it is important to start somewhere. Try a 60 second reset. At the start of each meeting, take a one-minute break – play soothing music, meditate, or just pause. Only 1 in 3 employees take a break in the workday, and this contributes to burnout and stress. Many people feel that they don't have time to take a break. If leaders build these one-minute breaks into the day and model that behavior, it will break the cycle of continuous stress and get everyone started on the path to wellbeing. 
For more recommendations for mental health in the workplace, check out ESC's Mental Health Matters blog: https://myesc.com/mental-health-matters/. 
Another great resource to help employees cope with stress or mental health issues is an Employee Assistance Program (EAP). These programs can be implemented quickly and affordably and are a great addition to your organization's benefit offerings. If a situation rises to the level of a crisis, it can be difficult to know what to do or say, and having the support of an EAP can be very helpful. Like any other health crisis, it's important to address a mental health emergency quickly and effectively. 
The National Alliance on Mental Illness (NAMI) provides important, potentially life-saving information for people experiencing mental health crises and their loved ones. Visit NAMI's website for a full guide: https://www.nami.org/Support-Education/Publications-Reports/Guides/Navigating-a-Mental-Health-Crisis.