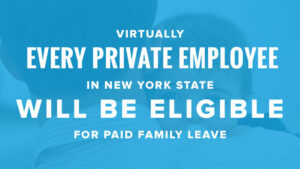 In April, we published Get Ready for NY Family Leave Benefits. Here is what else you need to know so that you can stay in compliance.
It is important that all NYS employers are prepared for the Paid Family Leave (PFL) Benefits because they will be launching in January 2018.  This law will apply to all employers who have one employee or more.  This means virtually every full-time and part-time employee in NYS will be eligible.
Communication:  Be clear and post signage.
The NYS Workers' Comp Board's prescribed notice (not yet released) must be clearly posted for all employees to see at the worksite.
Employers will want to remind employees that they must provide 30 days prior notice to take PFL if the event is foreseeable, such as maternity leave or military deployment.
It is important to keep in mind that if an employee is out on FMLA then you will need to provide them with notice of their eligibility for PFL.
Payroll deductions.
Employee contributions, deducted from payroll, will fund PFL.
Contributions are scheduled to begin July, 2017.
The deduction is "community-related".  This means the same, regardless of age, sex or location.
This rate is to be released in June, 2017.
Guarantees and fines.
Employers must guarantee job reinstatement to an employee on leave to the same or comparable position.
Employers must maintain the health insurance for any employee on leave.
Non-compliance: the NYS Workers' Comp Board may access penalties for non-compliance, up to one half of 1% of the employees' weekly payroll for period of non-compliance, plus payment of any PFL claims and an additional sum of up to $500.