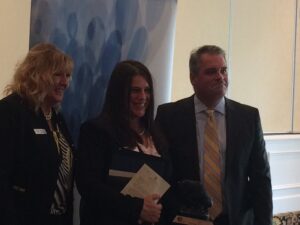 Buffalo, NY – May 2017
ESC is proud to announce Rachael Brown has been honored with the prestigious Small Business Advocate Award from the Amherst Chamber of Commerce. The following is from the Amherst Chamber's Small Business Awards Program.
Amherst Chamber of Commerce
Small Business Advocate
Rachael Brown
Rachael has distinguished herself as a dynamo – with the Amherst Chamber of Commerce, within her company, and all the firms she represents.  When she talks, we listen, because she understands small business and advocates for them every day.  She recognizes their challenges and works diligently to find solutions.
Rachael brings over 13 years work experience to Employer Services Corporation (ESC), currently serving as Director of Business Development.  She is responsible for creating and executing business development and marketing strategies to educate business owners and executives on ESC's value proposition, and grow ESC's market share in the region.  Prior to ESC, Rachael served as the Investor Relations Manager at Buffalo Niagara Partnership.
Not content to shine at her day-to-day employment, Rachael is very active in the regional business and civic community.  She currently serves as an appointed member of the Amherst Chamber of Commerce Board of Directors as a result of her leadership and past Chairmanship of the Business Resource Council.  She is also on the Board of Directors of the Buffalo Sales and Marketing Executives.  Rachael is a 2014 graduate of Leadership Buffalo and an active alumni member, as well as serving on the Public Relations committee for the Buffalo Niagara Medical Campus Rotary Club.  However, her commitment isn't limited to business organizations; she serves as the Ambassador Committee for Child and Family Services and the Fundraising and Sponsorship Committee for Haven House, in addition to volunteering with Matt Urban Hope Center in a variety of capacities.
Rachael isn't a rising star – she has already elevated to the star category.  What distinguishes her is her willingness to work with others and share her enthusiasm, her intellect and her experience.