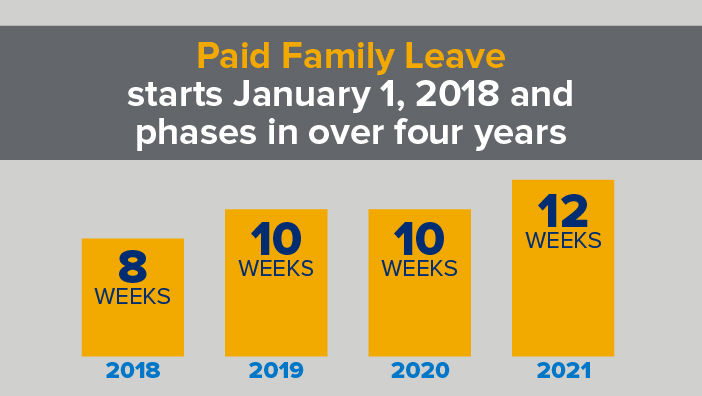 Get Ready for NY Family Leave Benefits
The effective date of January 1, 2018  for the New York State Paid Family Leave Benefits will be here before you know it! This law will provide broad paid family leave benefits through New York State's existing Disability Benefits Law for all employees who have worked at least 26 consecutive weeks (or 175 days for part-time employees) regardless of their employer's size.  This law will also provide eligible employees with the right to a leave of absence and guaranteed reinstatement even if they are not protected by the Family Medical Leave Act (FMLA).
The Paid Family Leave Benefits will be funded exclusively through employee contributions deducted from payroll.  These deductions must begin in July, 2017.  The amount employers will need to deduct has not been determined yet.  NY is currently in the comment period so final regulations have not been determined; however, it is important that employers are aware of the possible changes ahead.
How it works:
When fully phased in, NY will have the longest and most comprehensive paid family leave program in the nation.
Benefits will be phased in starting in 2018 and capped at 67% of the statewide average weekly wage when fully implemented in 2021.
Employees will fully fund Paid Family Leave.
Virtually every private employee of New York State will be eligible for Paid Family Leave.
An employer may not discriminate against employees for taking Paid Family Leave.
What it can be used for:
Maternity and paternity leave.
Caring for a loved one with critical health issues.
Spend time with those called to active military service.
Stay tuned for more information on NY Paid Family Leave.