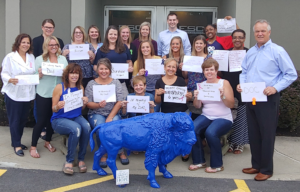 As an HR and Business Services firm, we regularly help clients develop the kind of world-class corporate culture that attracts and motivates top performers. Here at ESC, we practice what we preach with a well-defined and compelling corporate culture, one that has landed us on WNY's Best Places to Work list 13 times.
Exceeding our clients' expectations and delivering exceptional service are keys to our culture. Each and every employee at ESC is passionate about the work we do and the impact it has on our customers' businesses and employees. We thrive on providing our customers with a level of personal service that is not often seen in today's automated world.
While we work hard, we also value stepping away from work and having some fun. Our special events committee loves planning employee activities, including our annual summer picnic, "Are You Smarter Than a Fifth Grader" competition, Halloween costume contest, cooking competitions, and bowling outings just to name a few.
As a Buffalo-based company, it's important to the ESC team that we support our community. Throughout the year, groups of employees can be found collecting food for the Food Bank, giving to the United Way, participating in walks and runs to support the March of Dimes and Susan G Komen Foundation, attending fundraisers for Haven House, and supporting many other worthy causes throughout Western New York.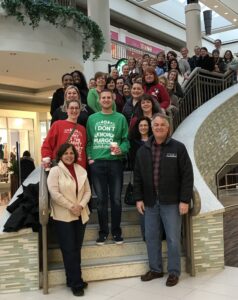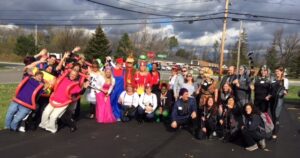 Here's what some of our team members have to say about working at ESC:
"I love the team environment. I never hear, 'That's not my job.' I only hear, 'Let me see how I can help you with that!' I love that everyone is more concerned with doing what is right rather than being right. I love the team of professionals that I work with…which is every employee in the company! I love that I am in an environment where I learn something every day and where my contributions are acknowledged and valued."
-Greg Gjurich, HR Business Partner
"ESC practices what it preaches – the values that are reviewed with you in your interview; orientation; that you read on the website, are lived every day. The culture is one of continued learning and knowledge. I love that the executive team has an open-door policy where you can feel comfortable popping in at any time. ESC has a genuine interest in the professional growth and fulfillment of their employees."
-Jessica Frattali, HR Business Partner
"As a new employee who has had an unimaginable family crisis occur four months into my employment, the outpouring of help and support from the ESC team has been overwhelming. I am so honored and proud to be a part of this crew and work for an outstanding organization that epitomizes what we represent to our clients!"
-Mary Ward, HR Business Partner