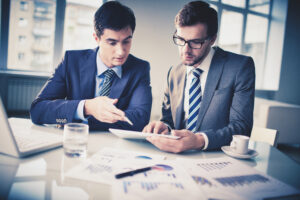 Managing Your Unemployment Costs
Often times business owners think unemployment costs just drain their bottom line and that there is nothing they can do to change it.  But the fact is, strong proactive HR systems can truly help keep costs minimal.
Simply stated, the amount of successful unemployment claims made against a company's  account determines the company's unemployment rate. Let's think of things in terms of a bucket.  We pay into this bucket with our unemployment insurance contributions. When someone collects unemployment, the unemployment benefits are deducted from the bucket.  So, if we have too much coming out of the bucket (too many people collecting) we will be responsible for putting more into the bucket to ensure it doesn't become negative. This means we have to pay more to increase the amount in our bucket, consequently impacting the bottom line.   The more claims that are paid out, the higher your tax rate will be.

The chart above shows how the unemployment rate you're paying can impact your bottom line. However, as an employer, you are not helpless and don't have to just sit back and let these claims be charged against your account.
Unemployment Costs are Controllable
Unemployment costs are controllable by limiting the number of claims paid out. It is up to the managers to limit this. It all starts with the People Cycle beginning with the people you are hiring and, later, coaching through their tenure. Having a proactive and strong progressive coaching and discipline system can truly curb the number of claims being paid out. It's all reliant on the documentation and what happens while the employees are working.  As we love to say in HR, if it's not documented it didn't happen!
There are multiple other methods an employer can use to help keep the costs low.  Providing well-written detailed job descriptions, having an employee handbook and workplace rules, implementing performance appraisals and providing regular employee training, are all excellent ways an employer can manage their unemployment costs and keep them from creeping up too much. Now with all of this in place, as an employer when you get your next questionable unemployment claim, you are ready to respond with detailed and factual information; ultimately winning the claim made against your account while helping to keep your unemployment costs low!
About ESC
ESC works with hundreds of clients to help them control their unemployment costs by putting proactive HR systems in place, responding to unemployment claims on their behalf, and ensuring that questionable claims are contested.
ESC is an Outsourced Human Resource (HR) Firm and Professional Employer Organization (PEO) headquartered in Buffalo, NY.  The only locally owned PEO, ESC provides services to hundreds of businesses locally, regionally and throughout the country, offering unmatched expertise in all areas of HR outsourcing and employment administration, all under one roof.