The Great Resignation marches on, adding to hiring headaches for employers looking for qualified candidates to fill jobs. There may be one talent pool being overlooked. More than 70 million Americans — about one-third of the total adult population — face unnecessary barriers to entering the workforce because of old criminal records. Fair Chance Hiring and Clean Slate Laws allow and encourage employers to tap into that vast and diverse talent pool. In recent years, an increasing number of state lawmakers have supported fair chance hiring legislation for people with criminal histories who are pursuing employment.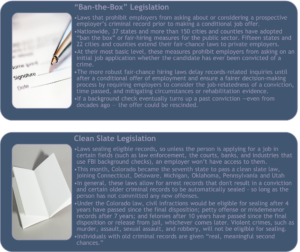 In addition to increasing the talent pool, research has shown many benefits associated with fair chance hiring:
Second-chance employees are engaged, loyal, and productive. 

 

85% of HR professionals and 81% of business leaders say that individuals with criminal records perform the same as or better than employees without criminal records.

 

Data indicates that second-chance hires have a lower turnover rate than other employees. 

 
Clean slate legislation can also benefit the economy and community safety in significant ways:  
The U.S. loses up to $87 million in GDP each year due to the underemployment of people with criminal records. Getting qualified and hardworking individuals into jobs provides a boost to the economy and lowers the burden on taxpayers.

 

The laws are also associated with a major reduction in offending rates and boosted earning potential.

 

One study found that five years after having a record sealed, individuals who benefited from expungement are less likely to commit an offense than the general public.

 
Recent research from the Society for Human Resource Management (SHRM) and the SHRM Foundation found that people in the U.S. embrace the idea of second chances and would be proud to work for an employer — and would patronize a business — that hires people who have a criminal record or who have been incarcerated.
If you are wondering what your organization can or should do, begin with ensuring you are in compliance with state and local legislation. Then consider how you can remove some of the barriers: 
Train on unconscious bias, empathy, and emotional intelligence;

Choose a background check provider that is transparent about how they check history; and

Expand diversity, equity, and inclusion policies and statements to make it clear you do not discriminate on the basis of a past criminal record.