Current HR and Legal Issues in the Workplace
What every employer needs to know
Thursday March 28, 2019 | 8:00-10:30 a.m. | The Saturn Club
An interactive breakfast seminar for business owners and executives.
Overview
Join Employer Services Corp (ESC) and Gross Shuman for a lively and informative discussion that will look at current HR hot topics from an employment best practice and legal point of view. Come hear Liz Warren, EVP of Human Resources from ESC, and Hugh Carlin, Partner, from Gross Shuman, share their knowledge and experience.
Complimentary Breakfast Seminar
Highlights include:
Non-harassment, anti-discrimination and sexual harassment prevention update

Just do it – but do it right

Workplace investigations

Due process
When to launch, when to close

Mental Health issues

Effects on the workplace
How to handle

Potpourri of updates

GENDA
Background checks
& more!
Gain Insight From Our Panelists: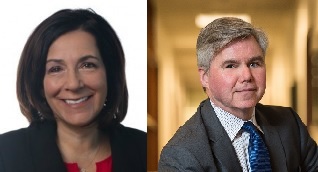 Liz Warren                    Hugh Carlin
EVP of HR, ESC           Partner, Gross Shuman
About ESC
ESC is an Outsourced Human Resource (HR) Firm and Professional Employer Organiztion (PEO) headquarted in Buffalo, NY. The only locally owned PEO, ESC provides services to hundreds of businesses locally, regionally and throughtout the county, offering unmatched expertise in all areas of HR outsourcing and employment administration, all under one roof.
About Gross Shuman
Our clients – leaders in a wide range of businesses – look to us for legal help with employment matters. We closely follow developments an trends in employment and compensation law to help business leaders keep their businesses on course. The firm provides comprehensive services ranging from proactive drafting of policies, employment and non-competes/non solicitation agreements to aggressively protecting its clients' rights in federal and state court litigation. The firm earned a first tier ranking for Labor and Employment Law by U.S News and World Report.
(Attorney advertising.)