Tomorrow, May 19, 2022, ESC's own Liz Warren (Executive VP and Chief People Officer) and Lauren Kersten (Human Resources Manager) will be presenting "Overcoming the Challenges of Recruiting and Retaining Staff" to the Medical Group Management Association (MGMA). 
This seminar focuses on strategies to combat the Great Resignation (also being dubbed the Great Reshuffle). From early retirements to women leaving the workforce, to the burnout of essential workers and shifting of workers' priorities – the record number of employees quitting their jobs continues to wreak havoc on businesses in every industry. 
This seminar provides actionable strategies on recruiting through a return to fundamentals, work from anywhere policies, tips on how to find candidates, and a renewed focus on diversity hiring. With a look at why employees leave and why employees stay, it also provides effective retention practices through broad and targeted strategies. 
The 2022 Demand for Skilled Talent Report from Robert Half provided the following information on the new hiring landscape: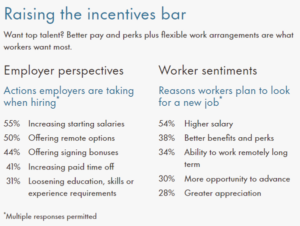 Given that there are only 51 unemployed people available for every 100 job openings in the US, it may be time to revise your recruitment and retention strategy. Check out a recording of a previous ESC seminar on Overcoming the Challenges of Recruitment & Retention in Today's Climate for more tips: https://myesc.com/recruitment-retention-todays-business-climate-esc-webinar/.