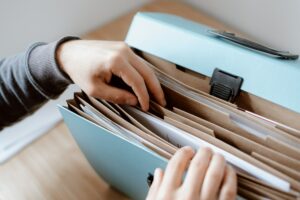 To remain compliant in New York State, it is crucial to maintain accurate and organized employee records. These records can range from Employee applications to employee medical records and everything in between. Storing these confidential records in a secure and safe place is crucial to ensure the security and confidentiality of employee information.
Keeping detailed and well-organized records helps organizations demonstrate compliance with employment laws and regulations, as well as support the organization in case of disputes or legal challenges that may arise.
Recordkeeping Compliance Checklist
Employee Records
Federal law requires retention periods for various types of records, such as employment applications, payroll records, time and attendance records, personnel files, and medical records. Employers should maintain these records for the specified periods to meet legal obligations. Ensure that any medical information is secured in a separate file from personnel files.
NYS Training Attendance
Maintain records of who has attended company trainings, such as New York State's mandatory annual harassment prevention training
Evaluation Documents and Policies
This includes documenting hiring decisions, performance evaluations, disciplinary actions, promotions, transfers, leaves of absence, and terminations
Recordkeeping in In New York State
The New York Department of Labor sets recordkeeping requirements for employee compensation purposes. This includes schedules, pay rates, wages, deductions, etc. There are additional requirements for tip credits, the hospitality industry, minors, and individuals working in an exempt capacity.
Employers are responsible for numerous aspects of employee administration. ESC has been helping hundreds of businesses with recordkeeping compliance. Please contact us if we can help your business with its recordkeeping needs.