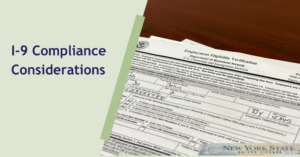 Much has already been written about changes in the I-9 verification form.  The well-known form is used to "verify the identity and employment authorization of individuals hired for employment in the United States."  This is one of the most important onboarding documents and completing it correctly is crucial, as penalties for non-compliance are steep – up to $2,701 per violation with increasing penalties for repeated violations.
Some of the I-9 changes include the change and consolidation of certain sections and the inclusion of technology to improve the process of onboarding. The form itself has also been designed to be more intuitive and easier to read.
With the rise of remote work, companies whose workforce used to be completely 'in-house' find that even with 'back to the office' policies, remote work has become more common. Consequently, the I-9 verification process has become more complicated.
Effective August 1, 2023 the Department of Homeland Security authorizes qualified employers to use permanent alternative documentation examination procedures as part of the Form I-9 process.  The alternative procedures permit remote inspection of employees' identity and work authorization documents, utilizing video conference technologies.
"Qualified Employers" refers to only those enrolled and participating in good standing in E-Verify, as defined by the Department of Homeland Security.
If an employer is not enrolled in E-Verify, what then?  They can still employ the traditional approach with the remote employee.  Someone authorized by the employer must be able to physically in-person validate a prospective employee's documents.  Remote workers unfortunately may not be that accessible.  As an alternative, a third party such as Equifax can be retained to conduct the verification.
Of course, a company can easily enroll in the Department of Homeland Security's E-Verify system. E-Verify "is a web-based system through which employers electronically confirm the employment eligibility of their employees" thereby maintaining the spirit of the I-9 verification process while acknowledging the reality of remote work.
For additional information about the I-9 and the employment verification process, contact ESC's HR team.