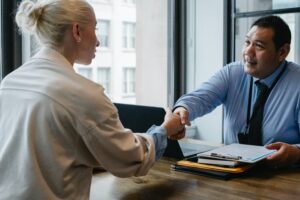 Hiring new employees brings some considerations for employers. Having a well-defined onboarding process helps employers and hiring managers navigate the process with ease, and ensures new hires are effectively integrated into their new roles. During this phase, employee handbooks are crucial to the new hire to understand company policies and expectations.
Employee Onboarding and Employee Handbook
An employee handbook is an employer's opportunity to ensure employees know and understand the organization's policies. Creating an effective employee handbook is crucial for setting clear expectations, promoting consistency, and ensuring compliance with employment laws in New York State. Include all relevant policies and procedures in the handbook including policies on anti-discrimination, harassment prevention, accommodation requests, attendance, leave policies (such as sick leave and family leave), code of conduct, social media usage, dress code, safety protocols, and any other policies specific to your organization's industry or requirements. When writing your organization's handbook, be sure to use clear language to ensure that all employees can easily understand the policies and procedures. Avoid complex legal terminology or unfamiliar jargon.
Employee Onboarding and Handbook Checklist
I-9 Verification
Employers are required to physically examine new hires' documentation within three business days after their first day of employment, but it is recommended that this be completed prior to the employee beginning work.
 Employer Policies
Provide new employees with a copy of your employee handbook. Have employees sign an acknowledgment form to confirm that they have received, read, and understand the handbook. Retain these forms in employee files as evidence of compliance.
Explain key policies and procedures including non-harassment and prohibited workplace conduct
Review the confidentiality policy and security measures employees should utilize to comply with the policy
Review grievance procedures and/or open-door policies, should an employee have a question or concern at work
 Employer Benefits
Review the procedures for requesting paid time off, including vacation time, sick days, personal days, bereavement leave, and jury duty
Provide written policies on compensation, bonuses, retirement programs, and benefits, and explain any applicable probationary periods
Employee Onboarding in In New York State
New York State requires all New York employees to complete Sexual Harassment Prevention Training. Completion of this training is an annual requirement and should ideally be completed as soon as possible by new employees.
Your company's onboarding process and employee handbook are a crucial part of the hiring process. Creating a well-defined onboarding process and an employee handbook with all your company's policies is not always an easy task. When you work with ESC, we help you every step of the way. Please contact us if we can help you with your current onboarding process and employee handbook.
Stay tuned for the next post in our series focused on leave management coming next week!